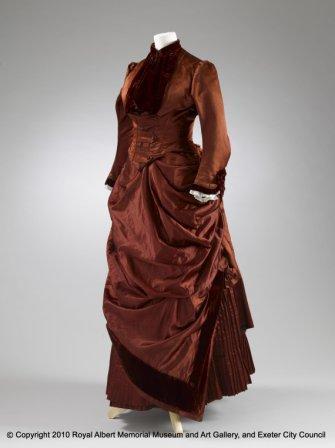 This elegant dress was made as a wedding gown by the Exeter dressmaker Green & Sons. It was worn by Miss Emily Gale of Exeter, a milliner, for her marriage to Walter Vicary of Bartholomew Street, Exeter in 1884.
It is a day dress in a deep russet coloured silk satin with velvet trimmings. It has a separate bodice and skirt, which has the fashionable apron front. The dress would have been worn with a dress improver or 'bustle' underneath.
The colour white became popular after Queen Victoria chose it for her wedding dress in 1840. Other colours were still worn so that the dress could be used again after the wedding. As wedding dresses closely followed the fashion of the time, brides often only needed to make small alterations to be able to wear the dress again.