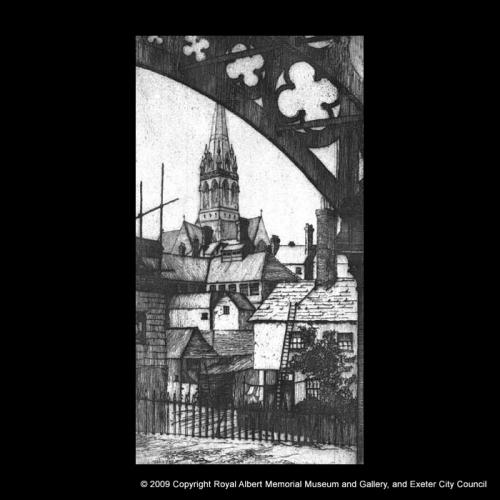 Under the Iron Bridge, Exeter, 1926 by Edna Fry (1903-c.1980) © Royal Albert Memorial Museum & Art Gallery, Exeter
St Michael's, Mount Dinham, was the most ambitious new church built in Exeter in Victoria's reign. It was designed by the architect Rhode Hawkins and built in 1865-8. The patron, who provided most of the money for the project, was William Gibbs, a local man who made a fortune from South American guano (bird droppings), which was shipped to England for use in gardening.
The fine spire's design was based on that of Salisbury Cathedral. The grandeur of the church reflects the ideas of the Tractarian movement, with its belief that the lives of working people would be enriched by impressive services and churches. The engraving of 1926 is by Edna Fry.
Acknowledgments: RAM Museum