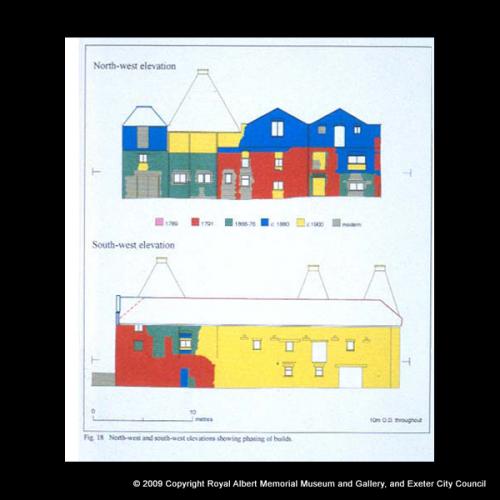 The malting process involved slowly drying large amounts of grain, after which it was stored for up to eight months, then re-hydrated (steeped) and heaped up in a specially-constructed frame to begin germinating. It was then slowly heated in a malt kiln and again stored before the brewing process could begin. This was a time-consuming process requiring a large amount of space; the building underwent several phases of expansion and changes in ownership.
First known as St Thomas' Brewery, the Malthouse began as a brewery and cellar, set up in 1789; a malthouse was added in 1791. It was incorporated into the City Brewery in 1833 and by 1850 was operating as a malthouse only. Further malting kilns were added in the late 19th or early 20th century, indicating the continued importance of this site to the brewing industry.
The elevation drawing shows the different periods of fabric represented in its standing walls.
Acknowledgments: Exeter Archaeology