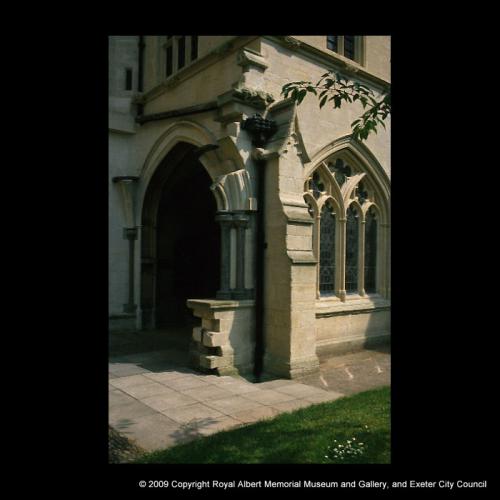 Exeter Cathedral's medieval cloisters had been destroyed in the Civil Wars of the 17th century, and a variety of buildings came to be occupy their site. In the 19th century many of these later buildings were cleared away as the clergy came increasingly to feel that such buildings were unworthy neighbours to a great cathedral. In 1887 the architect John Loughborough Pearson was employed by the Dean and Chapter to build a reconstruction of part of the medieval cloister with library above, replacing Stuart houses and workshops. This was envisaged as a first step towards rebuilding the entire cloister, but in fact no further progress has since been made with the project.
The view shows part of Pearson's cloister, with the library above. It was built in Doulting stone from Somerset. The style was the Perpendicular of the late 14th-century original, and Pearson imitated details of the medieval window sills and tracery which were found as the site was being cleared.
To the left of the view are the stubs of a proposed cloister walk in the Early English style of the 13th century. It remains unbuilt.
Acknowledgments: Exeter Archaeology