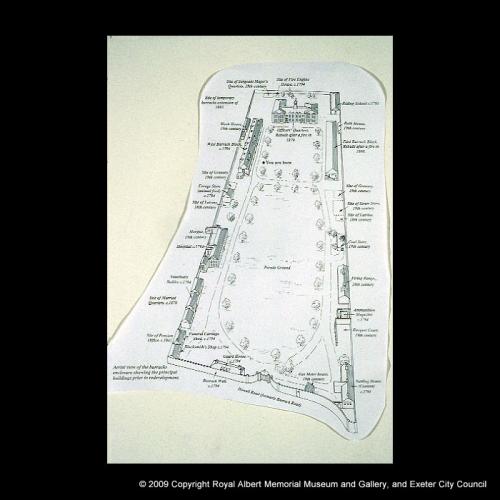 In the 1790s there was great alarm that England would be invaded by the troops of Revolutionary France. In various parts of the country new barracks were built to house a much-enlarged standing army. At Exeter there were two: Higher Barracks, and barracks for artillery men on Topsham Road.
Higher Barracks (recently re-named 'Horseguards') were built in 1794 for cavalry soldiers. Originally designed to accommodate 15 officers, 180 men and 202 horses, the barrack buildings were enclosed by a high wall; they formed a long rectangle sloping down to Howell Road, and included a Guard House, Canteen, Hospital, Riding School and Ammunition Magazine. At the top of the plot was the Officers' Quarters Building, with barracks facing each other across the green below. The horses and men were housed in three impressive buildings at the upper end of the site. Although the officers' quarters and one barrack were replaced after a fire in Victoria's reign, many of the Georgian buildings still stand.
The view is taken from the building survey conducted by Exeter Archaeology in 1998. It shows the layout of the site prior to its recent redevelopment for housing.
Acknowledgments: Exeter Archaeology