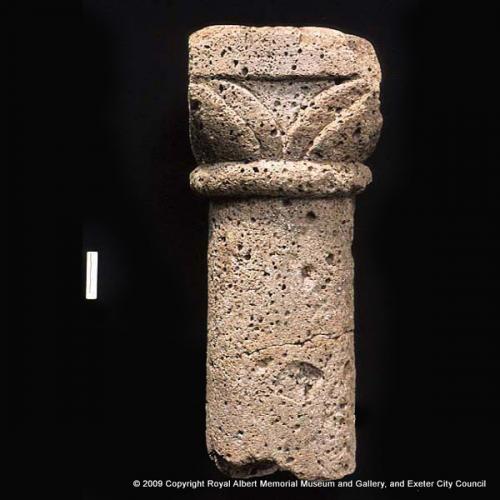 Carved in local volcanic stone, this stone shaft will have come from a group of arches; it may well have supported the centre of a pair. Its style indicates a Norman date.
In 1141 a small priory was founded on the banks of the Exe by Baldwin de Redvers, Earl of Devon. It belonged to the Cluniac order- that is, it followed the customs of the great monastery of Cluny in Burgundy. There were only four monks and a prior, but nevertheless a quadrangle of buildings was laid out in the Norman period, with a solid stone-built cloister.
The site is now occupied by Old Abbey Court at the foot of Salmonpool Lane. When new flats were built there in the 1960s architectural fragments from the Norman church were recovered; further massive architectural pieces were encountered when the adjacent St James Weir was repaired later in the 1960s.
Elsewhere in the city much Norman architecture has been lost. Many architectural fragments in the museum collections, which were re-used in later buildings, show that some high-quality buildings formerly stood in the city.
Acknowledgments: RAMMuseum