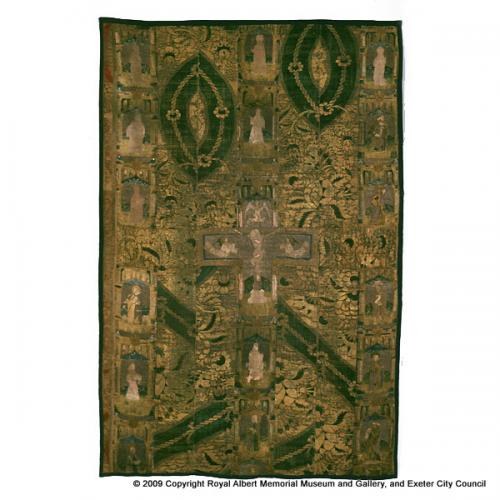 In the later middle ages the churches of Exeter were richly furnished with sculptures, metalwork, textiles and glass, but most of these were stripped at the Reformation and are now lost. Of the dozens of rich vestments which were recorded in the inventories of Exeter churches in early Tudor times, only two survive. One from St Petrock's is now in the Bishop's Palace; the other is in the museum's collections. It is shown in this image.
The museum's textile comes from the parish church of St Mary Arches and dates to c. 1500. It consists of a series of strips of silk, linen and canvas, embroidered with silver-gilt threads and silk, in green, yellow, red, blue and black. The narrow bands are richly ornamented, displaying the crucifixion and a series of saints below canopies; they alternate with broad bands of foliage. Originally the narrow strips formed part of a cope (the semi-circular cloak worn by a priest at the Mass).
At the Reformation vestments of this sort were condemned, but, rather than discard this one, the thrifty parishioners of St Mary Arches unpicked the offending figures, which now appear as blank shadows, then cut the cope into strips and re-assembled the pieces as a pall - a cover for a coffin. In this way it served the needs of the reformed Protestant church.
Acknowledgments: RAM Museum