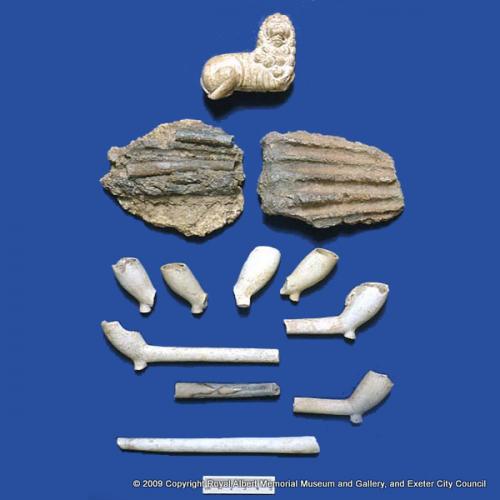 At the end of the 17th century there was a huge growth in the production of clay pipes in Exeter. Kilns were set up in St Sidwell's, Bartholomew Street and the West Quarter, supplying both a growing local market and foreign demand.
This mass of broken clay pipes was found in Bartholomew Street in 1974. They can be dated by their style to c.1690 -1720, when the Burges family made clay pipes in the area. William Burges, the head of the family, took in several apprentices to learn the 'art, trade, mystery, or occupation of the tobacco pipe maker'.
The industry enjoyed a brief period of success between 1690 and 1710 when, taking advantage of the city's booming foreign trade, pipe makers sent their wares to Portugal, Spain, Ireland, Scandinavia and America. More than two million pipes were sent to America, for example. The trade collapsed after 1720.
The image shows a selection of the clay pipe fragments made in the kiln together with pieces of the pipe-clay trays reinforced with broken pipes on which pipes would have been stacked in the kiln. Above them is a toy lion, presumably made there.
Acknowledgments: RAM Museum Exeter Archaeology