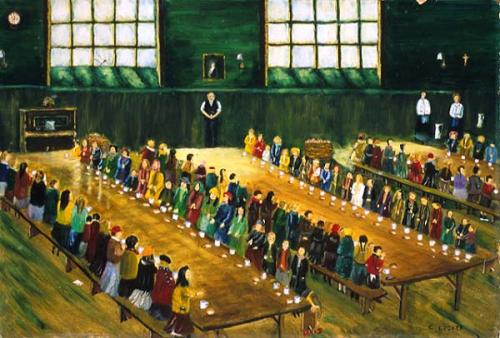 The Farthing Breakfast by Charles WJ Tucker © Royal Albert Memorial Museum & Art Gallery, Exeter
The West Quarter of Exeter had long housed many people who were close to destitution. As late as the Great Depression of the 1930s, children there searched through dustbins for food. The Salvation Army, established in Exeter in 1881, ran 'Farthing Breakfasts' for poor children. They were given a mug of cocoa and a bread roll or bun spread with margarine and jam at the cost of farthing (18 of a modern penny). If any buns were left over they could be bought for an extra farthing. This was sometimes all the bread the children ate each day.
Painted from memory many years later by Charles W.J. Tucker, the painting shows children lined up at tables with their mugs and bread at the Mission Hall in Coombe Street in the 1920-30s.
Acknowledgments: RAM Museum